Podcast: Play in new window | Download
Subscribe: Apple Podcasts | Android | Email | Google Podcasts | Stitcher | RSS | More
About this Episode
In the recent Technology News, hardly a week goes past without some mention of 5G or Full Fibre roll out and the Government's desire to see these being implemented across the whole country is a short timescale.
At the same time, we hear from Analysts that the Telecom Sector is under-performing.
For those of us focused on the Public Sector, hardly a month goes past without a new Framework being announced.
To discuss these issues, Lynne Magennis is joined by fellow Innopsis Director Michael Bowyer and Afshin Attari from Exponential-e.
Michael Bowyer
Director, Innopsis
Michael is an industry veteran of twenty-five years experience working in ICT supplying the Public Sector.

He is the Managing Director of Loddiswell Consulting which provides consultancy to vendors on strategic programs and guidance on large infrastructure programs for Public Sector. In addition, he is also a Director of Innopsis.
Prior to his current roles, he was the Chief Technology Officer and a Director for Siemens Enterprise Communications (Unify) responsible for Unify's Public Sector Western Cluster strategy and business development.
In addition to providing services via Loddiswell Consulting I am the industry lead for Innopsis for the Health and Social Care Network (HSCN). Prior to that I worked on the industry program that developed the Public Services Network (PSN) and served on the PSN programme board in the Cabinet Office for 5 years.
Lynne Magennis
Director
Lynne is the Innopsis Director focused on Podcasts and Design.
From a chemical process research background she has moved into the telecommunications business. Her day job is working for the Daisy Group.
 Outside work will find Lynne tending for her horses and dogs in the Home Counties.
Afshin Attari
Public Sector Director, Exponential-e
Afshin has had more than 20 years of experience of delivering Information Communications, Technology, Services solutions notably cloud, contact, collaboration, converged secure applications & services to the Financial Services, Public Sector, Utilities and Enterprise markets.  He  is currently responsible for leading, managing and growing Exponential-e's Public Sector Business Unit.
Afshin currently lives in North London.
Background
The articles that provoked this episode's discussions.
Here's a look at some of the myths and realities surrounding 5G connectivity and what it means for logistics.
Of all the technologies coming of age and promising disruption, 5G is probably one of the most exciting. As a communication and connectivity solution, it's leaps ahead of where we are today, it's impact on logistics will be immense.
Like any other technology, 5G has picked up its share of hype and hyperbole. It promises change and competitive advantages in logistics. However, the degree to which companies benefit won't be uniform, and it won't impact each type of business in the same way.
Here's a look at some of the myths and realities surrounding 5G connectivity and what it means for logistics.
What is 5G — and is it overhyped?
5G is fast. It's potentially 10 to 100 times faster than 4G.However, most of the products on the market today touting 5G speeds aren't 5G at all, which leads us to myth No. 1.
The phrase 5G doesn't mean what we think it means — at least not yet. There are only a handful of cities in the US with 5G access right now. That means marketing terms like '5G edge' and their middling speeds could confuse customers and hinder wider interest and adoption.
That makes adoption myth No. 2. Even if it's become a household term and hype magnet, 5G isn't going to penetrate this or any other industry in a widespread way for at least a couple of years. The best estimates from US carriers say they won't have nationwide 5G networks up and running until at least 2020.
What about 5G and  logistics, specifically?
First, logistics specialists need to know that even the most dramatic increases in speed, by themselves, aren't enough to bring the results you're looking for. Paul Soong, who serves as regional director for logistics management company BluJay, says it's important to keep our expectations realistic. "How quickly you push your messages and data doesn't necessarily improve your customer service or your processes. Did the nature of failed deliveries improve when we went from 3G to 4G? No."
That's a blunt way to say it, but he's correct. It's not enough for a company to say it's investing in new technology. It also has to understand what it can do, be clear-minded about what it can't, and have a clear set of problems to solve and goals to achieve.
With these caveats out of the way, let's look at some of the practical ways 5G is set to shake up logistics.
Real-world applications for 5G in logistics
The disruptive potential of 5G in logistics is all about the Internet of Things. We already see 4G and Wi-Fi networks as the 'connective tissue' between every device we connect to the internet, including computers, phones, wearables, home appliances and major business infrastructure.
Every business relies on data to function, and logistics companies handle even more data than most. The sheer confluence of various employee functions, delivery vehicles, material handling equipment and facility control systems has always required lightning-fast connections with low latency and high uptime.
5G can deliver on that promise once it's up and running. Individual devices will be able to achieve their own internet connections, provided they bring their own power or have access to it. Because of the far lower latency than 4G — up to 10 times lower — companies will be able to distribute and exchange far larger quantities of data than ever. They can process it closer to the source, rather than dialing out to remote servers.
It means companies will have the means to build a lean, distributed cloud network to tie their logistical operations together. The collaborative potential alone for using 5G to keep multiple vendors and partners on the same page, in real-time, is difficult to ignore.
This ease of connectivity, coupled with high speeds and low latency, will unlock a host of new technologies, methodologies and workflows for logistics companies. They will be able to build a web of connected and automated sensors, facility controls, conveyors and material handling equipment, as well as deploy connected vehicles out in the field. Here's a sampling:
• Remote devices and sensors for more advanced telematics, dispatching and rerouting personnel or vehicles, and tracking every asset while it's in the field.
• Small, affordable, wireless sensors for tracking freight and automating notifications about quality assurance issues, like spikes in temperature or crushing blows while in transit.
• The means to conduct faster inspections and bring down other freight expenses thanks to more complete data trails.
• Wireless wearable personnel monitors can observe and report data on employee vitals and condition while working in remote or dangerous environments, such as wells, mines, warehouses or distribution centers.
All of this is impressive. However, let's bring the conversation back to the basics of logistics itself: Does this technology add up to a better business model and a more consistently excellent customer experience?
5G and logistics companies, what it is and isn't
Let's go back to Paul Soong for a moment. He had it right when he pointed out that logistics companies don't necessarily innovate and improve just because they have access to technology. "I can track more accurately (with 5G.) But have I got the right information? Was the delivery successful? I can push new information to a device, but has the situation on the ground already changed?"
Here's another way to look at technological disruptions in logistics: Is the course I'm taking, or the technology I'm investing in, something that supports people? This includes employees, vendors and customers.
That's a critical point here: Not every company requires the up-to-the-second functionality provided by 5G. 5G will allow companies to make informed decisions more quickly, based on data gathered in real-time from across an organization.
Previous connectivity technologies provided the means to collect and act on data. However, this didn't necessarily happen within a timeframe that prevented the worst effects of a shipment disruption, quality control issue, lost shipment or product recall.
Ultimately, 5G isn't a panacea for bad customer service or a poorly designed company. However, for companies with a strong commitment to excellence already, 5G promises functionality that could help take their game to an even higher level.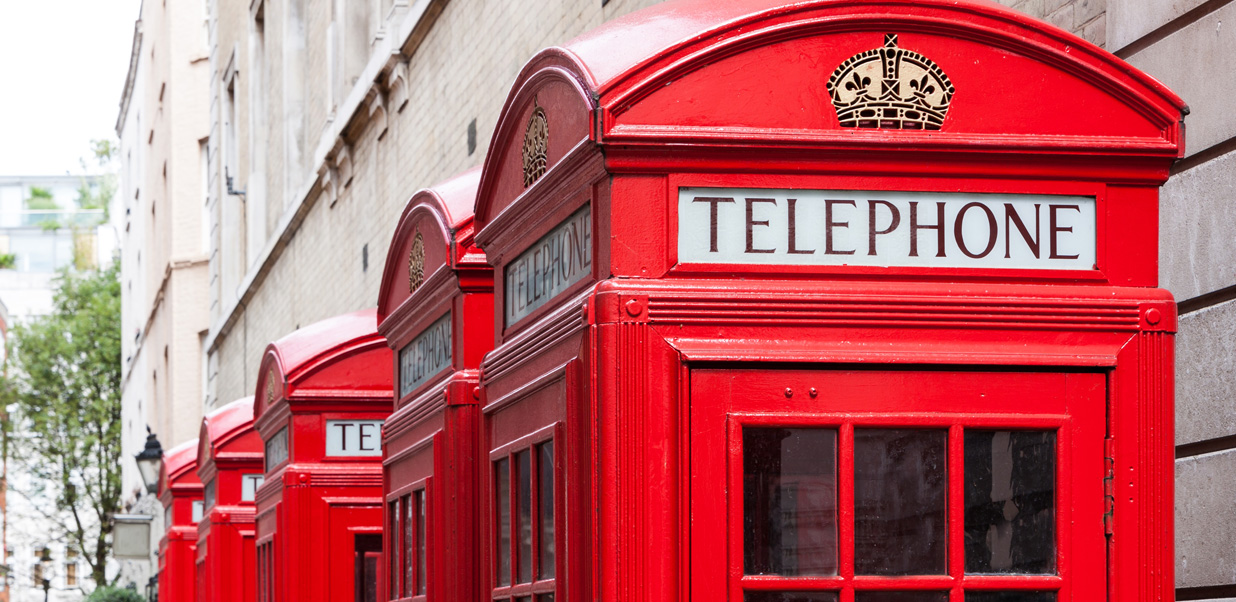 We evaluate the prospects of the UK's big two telcoms
There are only two big UK-listed telecom companies, but they're a major slice of the UK market.
The sector has had a tough time of late, with both Vodafone and BT underperforming the wider market.
Here we take a look at why, and evaluate their future prospects
BT and Vodafone total return vs FTSE 100 in the last 5 years
Past performance is not a guide to the future. Source: Lipper IM to 31/07/2019
Spending to stand still
Of course, there've been stock-specific issues holding back both companies. But there are a few factors impacting the whole sector.
The first is a large capital spend. Capital expenditure is what companies spend on fixed assets and property. And not many companies have to spend so much on their asset bases as the telcoms do.
Over the last 5 years BT and Vodafone have, on average, spent about 15% of revenues on capital expenditure. The average for the FTSE 350, excluding REITs and investment trusts, is around 7-8%.
A large capital expenditure bill isn't always a bad thing. How else can companies broaden their asset bases? The problem with the telcoms' spending is that they're only really topping up their asset base. Both BT and Vodafone have seen their depreciation and amortisation expense outstrip their capital spend. This means they're spending heavily just to stand still.
And spending doesn't stop there.
Mobile providers have to buy frequencies to transmit mobile data. But these don't count as capital expenditure. Governments around the world quickly cottoned on to that and, by structuring the auctions in a certain way, they created a cash cow.
Companies don't have to add to their spectrum every year, but the costs can be significant. Vodafone has spent €15bn in the last 5 years, while EE splashed out £5bn before being bought by BT in 2015.
The second issue is the ever-growing competition in the mobile market.
Mobile coverage is strong across the board, especially in heavily populated urban areas. That means there's little to choose between the mobile networks, other than the price they charge. That's created intense price competition, and not just in the UK. Vodafone has felt the heat in countries from Spain to India.
When you have to cut prices to retain customers, it's hard to grow margins.
Debt becoming a burden?
It's not unusual for telecoms to have a fair amount of debt. Revenues have tended to be reliable and in the good times the interest cost is easily affordable. But these debts have to be paid no matter what, and when profits evaporate the interest burden gets heavier.
Vodafone is hopeful of reducing leverage by selling or independently listing its towers assets. While this will help reduce debts, the group will lose the steady revenue and profit they generate.
BT has another monkey on its back – the final salary pension deficit. While this isn't classified as debt, BT could be facing a multi-billion pound funding gap. As a result BT's having to throw significant amounts of cash at the problem. A new funding package was agreed last year, which will see BT plough over £2bn into the pension scheme by 2021. Again, this soaks up cash.
The combination of squeezed margins and the significant demands on cash flows have jeopardised the dividend paying-prospects of both companies. Vodafone has cut its dividend from €0.15 per share to €0.09, which means a prospective yield of 5.9%. It should be remembered yields are variable and not a reliable indicator of what you'll receive in the future.
And while BT hasn't cut its dividend, it has scrapped plans to grow it, in the short-term at least. The prospective yield there is 8.4%.
So what's next?
Investors should concentrate on the future, not the past. Think about driving a car – a glance in the rear view mirror is required every now and again, but you need to keep your eyes forward most of the time.
And with the share prices of Vodafone and BT driven down over the last couple of years, it's worth evaluating the case for a recovery.
Both groups have a new chief executive at the helm, and are working on tying together their consumer TV, mobile and internet bundles.
However, that's where the similarities end.
BT remains largely UK focused, but, after stepping back from India and completing the €18.4bn acquisition of Liberty Global's cable and fixed line assets, Vodafone has tied its colours to the European mast. While growth across the continent has been sluggish recently, the group is confident trends will improve and expects service revenues to gradually recover from here. It's certainly encouraging to hear a more upbeat forecast, but investors will need to see it materialise in the coming months.
BT's strategy leans on cost-cutting, and the group has also announced plans to expand the roll-out of fibre broadband. The government is keen for BT to help facilitate the UK's transformation into a fibre nation, so it's possible a favourable deal could be reached with Openreach on funding and allowed returns.
Still, investors should be wary of the consequences if it doesn't. The new CEO was clear that the dividend might get a trim if more cash is needed to go into the fibre build. That means we think income-seeking investors should proceed with a healthy degree of caution.